Lamoka Lake is a 588 acre lake located in northwestern Schuyler County about two miles west of Tyrone. Although they are not Finger Lakes both Waneta Lake and Lamoka Lake offer the same vast opportunities for water sports, fishing, and relaxing just as the Finger Lakes do. They are connected by a 0.7 mile canal that flows through the Waneta-Lamoka Wildlife Management Area. A bridge that crosses the middle of this channel has recently been upgraded and allows most low profile boats to travel between lakes without pulling the boat out of the water. Except for the northern most portion of the lake, the shoreline is composed of year round and seasonal homes and cottages. Lamoka Lake features three (3) Islands. Red Bank Island which is owned by NYSEG at the northwest end is a popular gathering spot where it is not uncommon to see numerous boats anchored. Weller Island at the south end of the lake by Fleet Cove you can access by vehicle, and it has about 45 homes on it. Stingers Island is a privately owned island that is located southwest of Wells Island.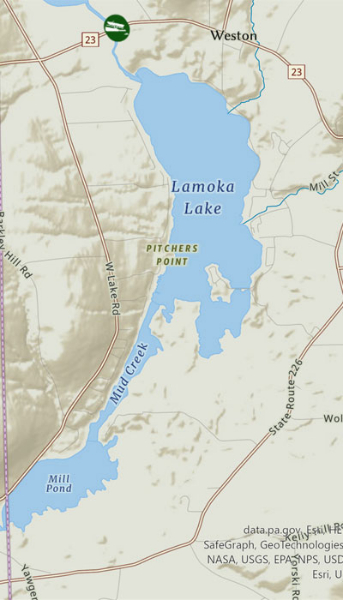 Physical Features:
Elevation: 1,099 feet
Area: 588 acres
Shoreline Length: 11.3 miles
Length: 1.6 miles
Max Depth: 40 feet
Mean Depth: 20 feet
Fish Species:
Largemouth Bass
Smallmouth Bass
Chain Pickerel
Yellow Perch
Bluegill
Pumpkinseed
Black Crappie
Rock Bass
Brown Bullhead
Golden Shiner
White Sucker

Sorry we are experiencing system issues. Please try again.